The area around Bath is great for walking, with beautiful green scenery, good footpath coverage and variety of terrain. Here I'll share some of the walks I've enjoyed – they're concentrated in my own local area, the south side of Bath, and include beauty spots like the Limpley Stoke valley, attractive villages and tourist attractions. Many of my favourite paths are quiet and less-trodden countryside paths, not major trails. (Get a taste with my photos from this sunny January walk: Monkton Combe – Limpley Stoke – Freshford).
If you're a keen walker and want to get the most out of the local footpaths, I'd strongly recommend a good paper map or the OS Maps app with printouts as backup. Unfortunately the countryside to the south of Bath is at a join between four Ordnance Survey Explorer maps (155, 142, 156, 143) – my first solution was to have my own customised OS map printed to cover my desired area, and more recently I've started using the app, which will be useful wherever I travel in the UK.
The area I'm covering for now radiates outwards from the southern edge of Bath and the suburbs/villages of Odd Down, Combe Down and Claverton Down. As the names indicate, these settlements are on hills outside Bath, so to start a walk in the town centre means an extra uphill walk of 30-40 minutes. An alternative is to catch a bus for this first stretch of your walk, or use bus or train to start at a point further into the countryside – I'm including public transport details below and in my walk descriptions. My walking range so far extends to Bradford on Avon (6 miles south-east of Bath) and Beckington (10 miles south of Bath), encompassing a number of villages, including: Freshford, Limpley Stoke, Southstoke, Combe Hay, Midford, Norton St Philip, Rode, Hinton Charterhouse, Westwood, Sharpstone. The area includes picturesque riverside walks, pub gardens, villages with handsome cottages, historic churches, woodlands, secret swimming spots, ancient trackways and sheep farms. I'll add more walks as I take them.
The local landscape is predominantly low rolling green hills and winding river valleys, mostly green pastureland for animals or hay meadows, but with wooded areas too. There are also stretches of higher-level plains, often arable land. The towpath of the Kennet and Avon Canal offers scenic level walking between Bath and Bradford on Avon, and the traces of the vanished Somerset Coal Canal make an interesting historical comparison.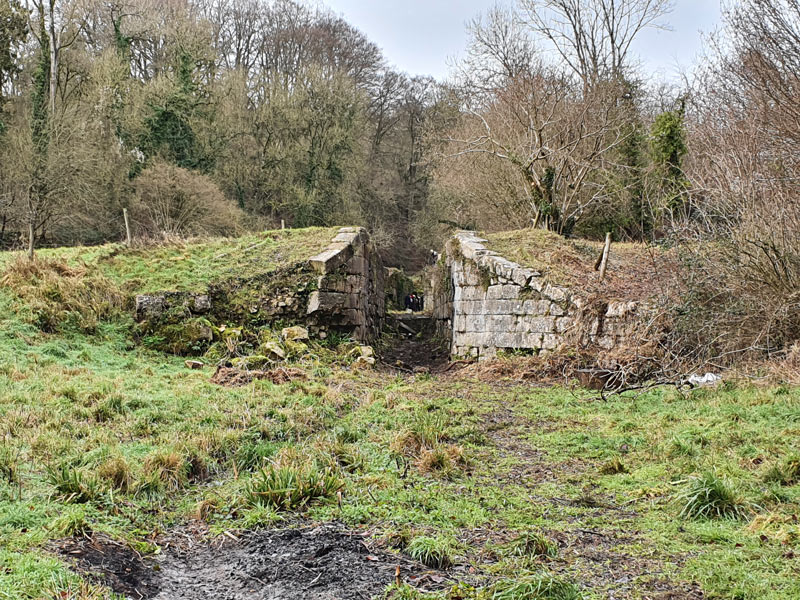 Problems with footpaths in this area can include mud and water in winter, out-of-control vegetation in summer, fallen trees and branches. More serious issues are rare, but can include missing signage, broken stiles and obstructions caused by landowners, building developments or neglect – I've included links at the foot of the page for reporting issues. I've very rarely found a insurmountable challenge, though, and most footpaths are pretty good apart from mud and overgrowth.
I recommend waterproof footwear in winter and long trousers or zip-offs in summer, when you might have to force your way through nettles and brambles on the less-used paths. There are several places to buy refreshments, which I'll list below, but opening hours can be restricted, and so I'd always take enough water and food to last the walk if necessary. Dogs should always be on leads in the countryside, to protect not just livestock but also the wildlife around field edges and in woodlands. Note that some local fields may have cattle in. Deer roam the area, and although it's not that common to spot them in the daytime, sometimes ramblers get a lucky sighting. Check yourself and pets for ticks after a walk.
Sharing these walks wasn't an easy decision – although they are official rights of way (plus the occasional permissive path), and findable on maps, I think of some as secrets. They feel like special routes as so few people use them and it's so rare to meet another walker on some of the most rural stretches, apart from the occasional dog walker on the edges of villages. They're peaceful steps right into the heart of the countryside and nature, where the only sound might be birdsong, the wind in the trees or sheep bleating. In early summer the wildflower meadows can be breathtaking, and you might find yourself in a sea of orchids while larks sing overhead. It's a great, refreshing and restorative experience for the soul. So please follow the countryside code (note the bit about saying hello!) and help keep these places unspoilt and special.
Eco-friendly and sustainable travel
Nature is good for us, but can we be good for nature? And how can we support the local community when we travel?
There's no better way to appreciate and respect nature than to experience it on foot, leaving as little trace as possible of your passing. Walking – and solo, dog-free walking in particular – is quiet and as non-intrusive as it's possible for a human to be, barely disturbing even birds, while providing us with access to the serenity, harmony and restorative powers of the countryside. Driving to the start of a walk, of course, will immediately increase the environmental impact of your activity. All the walks I list are ones I've done on foot from Bath, or by using public transport. As well as keeping pollution to a minimum this is also a very satisfying way to explore the landscape, and I would strongly encourage any readers to leave the car behind and do the same.
Obviously walkers who've read this far will be well aware of the importance of respecting the environment, protecting wildlife and livestock, and not leaving litter. Local countryside communities and landowners paid a high price for the increase in visitor numbers during lockdown. Throughout this very rural landscape there are a few small local businesses and initiatives which help to keep villages alive and sustainable – as well as providing a valuable resource for passing walkers. I've listed (below) a number of places offering refreshments, from village pubs to community-run tearooms. As the local economy recovers from the pandemic, supporting these enterprises is a good way of giving back to the local area while enjoying excellent food/cakes/cider/sights/tea/toilet facilities (delete as appropriate), which can be invaluable on a longer walk.
Public transport for walkers
As well as a map, it's a good idea to arm yourself with some basic knowledge of public transport routes for your walking area. Bus route coverage of the smaller villages is not at all good, but there are several routes between larger towns which can be very helpful for the walker, allowing you to hike further on a linear route. The railway line between Bath and Bradford on Avon is also very convenient for ramblers. Always check timetables and the latest updates for the services below, which may have changed since I wrote this page.
Useful public transport routes:
Refreshment possibilities
As this is a rural area, the options are limited for food, drink and toilets, but despite this there are a few excellent options dotted around the villages – and of course many more choices in Bath and Bradford on Avon for the beginnings and ends of walks. These are places I know about, ranging from pubs with lovely gardens to volunteer-run tearooms. Some businesses serve full meals; others are ideal for a pit-stop and a slice of Victoria sponge. Somerset is, of course, famous for its cider and choices available at hostelries on walks include the ultra-local Iford Cider and Honey's Cider (from Midford).
Please confirm up-to-date opening times before relying on re-fuelling at any of the businesses below. The list isn't exhaustive (though I've done my best) and I can't guarantee for how long it will remain valid.
Combe Down : Coop and Darling Deli (The Avenue) – good places to get provisions at the start of a walk when leaving Bath.
Monkton Combe: Wheelwright's Arms.
Limpley Stoke: Limpley Stoke Hotel.
Freshford: The Inn at Freshford. Galleries Commmunity Shop & Café.
Iford: Café at Iford Manor Gardens, open to the public (limited opening hours).
Westwood: Tearoom in Parish Rooms, open seasonally with same hours as Westwood Manor (National Trust). Delicious cake. Also Westwood Stores & Post Office.
Avoncliff: Cross Guns pub. No.10 Tea Gardens.
Norton St Philip: The George Inn and Fleur de Lys. Co-op.
Farleigh Hungerford Castle (English Heritage): small souvenir shop with tiny range of drinks and ice creams to take away, useful in an emergency.
Beckington: Mes Amis café/deli. The Woolpack.
Rode: General Store/café/Post Office. The Cross Keys.
Hinton Charterhouse: The Stag Inn. The Rose and Crown.
Midford: The Hope and Anchor. Castle Farm Restaurant (on Midford Road, walking distance from Southstoke, Odd Down and Midford).
Southstoke: The Packhorse
Combe Hay: The Wheatsheaf
Dundas: The Angelfish Restaurant/Café.
Pizza in the evenings – the enterprising Freshford-based Bianco Rosso Pizza Company sell take-away pizza on selected evenings of the week in the villages of Freshford, Combe Down, Beckington and Hilperton (check their Facebook page for latest days, locations and updates).
Accommodation
If you fancy a holiday immersing yourself in the countryside and exploring it at your leisure, with the bonus of easy access to Bath, there are a few good places to stay in the area covered by these walks. As the choice isn't large, I'd suggest booking well in advance of your travel. Given the easy access from Bath, though, it's easy to do these walks while based in that city.
Public rights of way: researching and reporting problems
This area is divided up between different local authorities, and part of it also falls within the Cotswolds National Landscape Area of Outstanding Natural Beauty. The border between Somerset and Wiltshire runs through the countryside between Bath and Bradford on Avon (and not in a straight line). Bath and its immediate vicinity has its own unitary authority, Bath and North East Somerset, which extends southwards to include Freshford, Hinton Charterhouse and Stony Littleton. Each of these counties is responsible for its own public rights of way, and you may wish to report any problems to them, or pre-emptively check for any reported issues along your route.
BANES public rights of way – this isn't a particularly useful resource for researching issues, but does have contact details for reporting problems, and a colour-coded map with highlights to show where applications have been made for closures or diversions.
Wiltshire rights of way – map with colour-coding and contact details for reports. More info here.
Somerset rights of way – this is a better and more detailed resource, and includes details of stiles and gates on routes, and reported issues.
The walks
Bath railway station to Prior Park Gardens and Skyline variant – a mixture of town and countryside, visiting the historic landscape of Prior Park. 2-3 hours, easy (with uphill).
January in the winter sun – a photo-account (without directions) of a circular walk connecting Monkton Combe, Limpley Stoke and Freshford