Farleigh Hungerford Castle is an atmospheric ruined castle in a rural valley south of Bath. Although now in ruins, it has a long and illustrious history. If you're touring the countryside or planning an excursion from Bath, it's an interesting tourist attraction to visit. Children will enjoy it, and both the history and the setting should appeal to visitors of all ages.
The castle is in the care of English Heritage (paid admission, free to EH members). The latest opening times and information can be found on the official website (English Heritage – Farleigh Hungerford Castle). Note that during winter the site may only be open at weekends. Even when the site is closed, passers-by can still admire the exterior of the gatehouse and fortified walls from the road and footpath alongside.
There are attractive footpaths through the countryside locally, one starting at the castle itself. So walkers might like to incorporate Farleigh Hungerford into a scenic itinerary on foot, for an eco-friendly and enjoyable way to see this beauty spot. I've suggested bus/train/walking routes for car-free visits (below).
Farleigh Hungerford Castle – history and things to see
The manor at Farleigh was first fortified in the 14th century by Sir Thomas Hungerford, a wealthy man with a finger in many pies, and the first recorded Speaker of the House of Commons. Nowadays the remains of his castle, added to by his heirs, are still impressive, despite their ruinous state.
Most of the original living quarters are represented only by low broken walls, but there are romantically-ruined, empty towers still standing, as well as tall stretches of the outer fortifications and the impressive gatehouse.
The castle's 14th-century chapel contains fine tombs of the Hungerford family and a 15th-century fresco of St George, while a crypt houses some rather creepy human-faced lead coffins. The priest's house, which later became a farmhouse, contains a small exhibition about the site's history.
A good audio-guide is included in the admission price. It's a helpful way of bringing the ruins to colourful life, with tales of murder, execution, incarceration, conspiracy and rebellion. A guidebook is available in the small souvenir shop. There's also good historical information available on the English Heritage website, including a reconstruction of how the castle may have looked.
As well as the historical interest, part of the appeal of visiting Farleigh Hungerford is the green countryside setting. Visiting the castle is a good opportunity to get a taste of the rural landscape which surrounds Bath.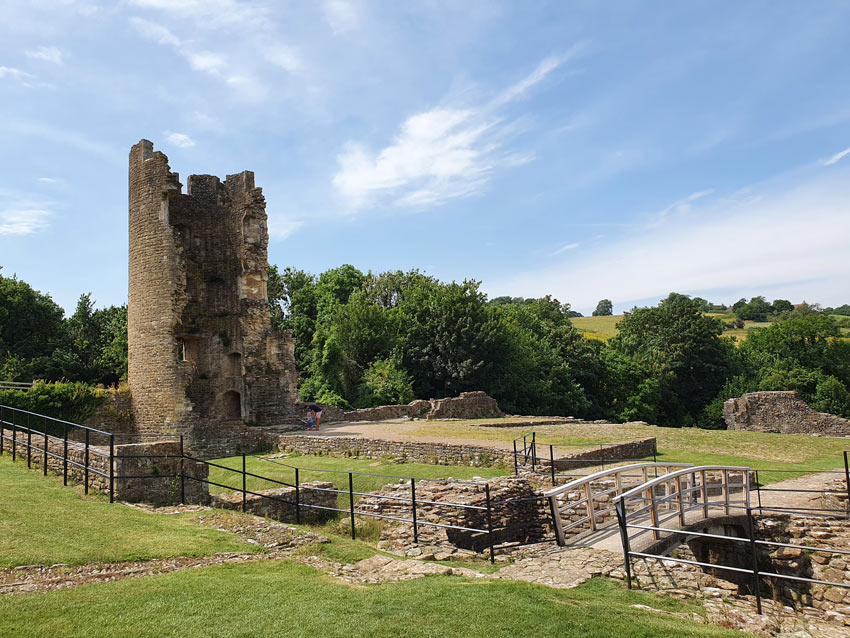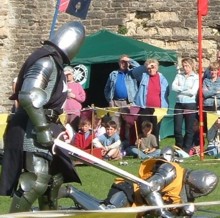 The best days to visit English Heritage sites are when there are special events. They organise a great series of historical re-enactments, plays and fairs. Children will love the colourful knights and storytellers, and plenty of adults (like me) do as well. It's not all fighting – events are educational, too, and visitors can sometimes have a go at historical activities such as dancing or archery. There's a calendar of events on the English Heritage website – keep an eye on these, in case any are scheduled for Farleigh Hungerford in the future.
Farleigh Hungerford Castle – directions and how to get there
Farleigh Hungerford is 9 miles south-east of Bath. The most straightforward to get there is by following the A36, and turning onto A366 towards Trowbridge. There's a car park at the site. Unfortunately there is no public transport connection; the easiest ways to arrive are by car or taxi.
However, if you're keen on walking or planning a car-free excursion, it is still possible to reach the castle. I've visited on a sunny summer day by using a combination of bus and footpaths, and I'll describe below how the castle can be incorporated into a country walk. The nearest station is at Avoncliff (two miles away) and the nearest bus stops are nearly two miles away, in Westwood and Wingfield.
Farleigh Hungerford Castle on foot
With a map, time and a reasonable level of fitness, walkers could visit Farleigh Hungerford in a long day walk from Bath. A less strenuous option would be to select a route combining public transport and walking, for an enjoyable one-way walk or a circular excursion from one of the nearest stations. I've included suggestions below, beneath some general info on local footpaths.
Footpaths from Farleigh Hungerford Castle
The Macmillan Way long-distance walking route passes Farleigh Hungerford Castle. To the south the route follows roads for some distance, mostly quiet apart from a short busy stretch uphill from the the castle. Beyond this the footpath winds southwards across farmland and follows the river Frome from the beauty spot of Tellisford towards Rode and Beckington (accessible from Bath by bus).
In the other direction, steps lead down from alongside the castle gateway to the footpath which heads north along the river Frome in the direction of Bath. It's a short riverside walk to the beautiful Iford Manor Garden. Beyond Iford, footpaths and country lanes lead to Freshford, Avoncliff or Bradford on Avon. These all have railway stations with half-hourly trains to Bath.
There are other footpaths nearby too, and keen walkers can devise various routes either for reaching the castle or simply for enjoying a walk from the car in the local area. I've written about walks in the countryside south of Bath, along with suggested pubs and cafés in the area:
Walks to Farleigh Hungerford Castle – two suggestions
Here are brief descriptions for three walks to Farleigh Hungerford, using public transport from Bath. Ordnance Survey maps or the OS Maps app are the best way to plan your route.
An easy excursion:
Train from Bath Spa to Freshford (takes a few minutes). Follow footpaths along the river or through pretty Sharpstone to Iford (see my Iford Manor Garden page for directions).
At Iford, join the Macmillan Way and continue to Farleigh Hungerford.
An easy walk of around an hour each way (2.5 miles), very picturesque and mostly level (there's an up/down through Sharpstone and a flight of steps up to the castle).
After visiting the castle, return the same way, or walk to Westwood and on to Bradford on Avon, for a train back to Bath.
A part of a long walk:
Bus from Bath to Beckington (the D2 service to Frome), then follow the Macmillan Way to Farleigh Hungerford.
From the castle, continue along the Macmillan Way to Iford and then on to Freshford.
This walk is fairly level, with only short uphills and a descent of the steps by the castle.
From Freshford you can travel back to Bath by train. An alternative would be to walk all the way back to Bath (this stretch involves more ups and downs).
This is a longer walk – around 4 hours/10 miles if you do the whole route on foot from Beckington to Bath. I'd recommend taking a decent map.
Circular walk from Bradford on Avon
A 6-mile circular route from the English Heritage blog, starting and finishing in Bradford on Avon: History Hike: Bradford on Avon to Farleigh Hungerford Castle.
Other local attractions
For a longer day out you can combine Farleigh Hungerford with other local attractions. Places to visit nearby include Iford Manor Gardens (limited opening), the nearby village of Norton St Philip and its famous inn, The George, Westwood Manor (National Trust, limited opening), Frome and Bradford on Avon.
Cream teas and swimming at Farleigh Hungerford
On hot summer days locals have a few favourite swimming spots along the river Frome on the routes of the two walks above. While this looks idyllic on a summer day, please be aware of the risks of river swimming if you're considering a dip. There is also a historic wild swimming club across the river at Farleigh Hungerford: Farleigh & District Swimming Club. This is located across the river from the castle. Half a mile further along the A366 is Stowford Manor Farm, where cream teas and camping are available.
Stay near Farleigh Hungerford
(Booking affiliate link – using this will enable you to support this website at no extra cost. Thank you)