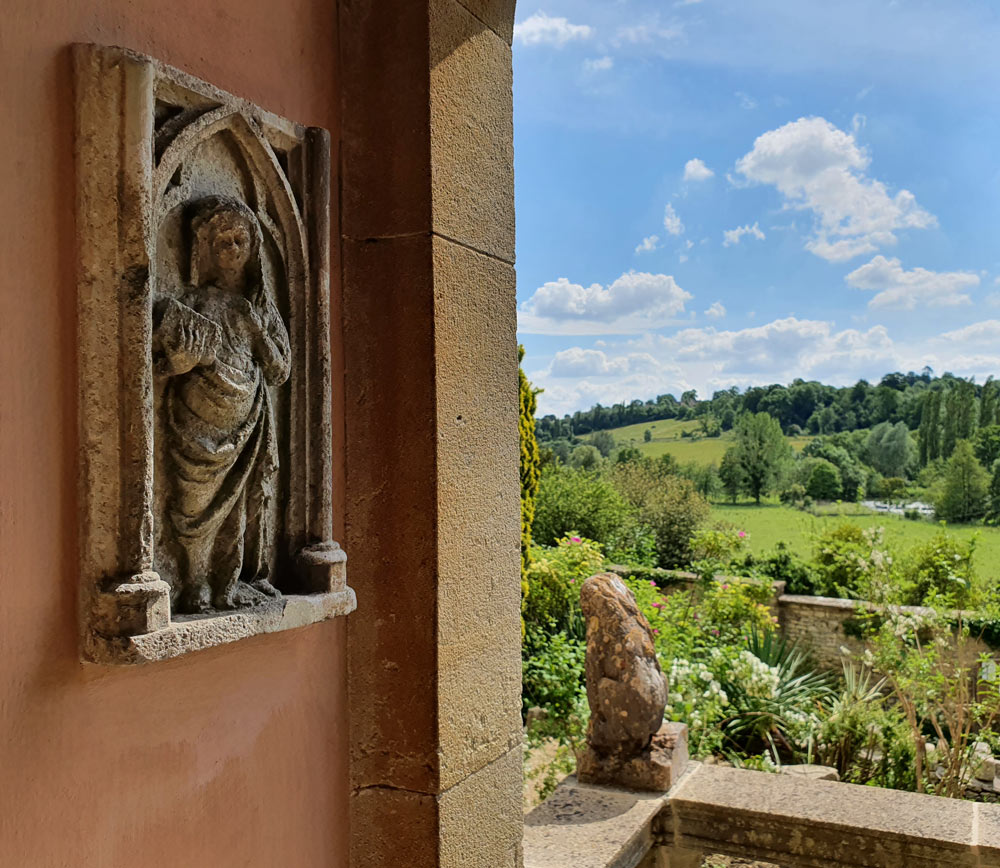 Iford Manor Garden offers a glorious, romantic idyll in a peaceful green valley between Bath and Bradford-on-Avon, the ideal destination for a day trip escaping from the bustle of city life and sightseeing. The best way to arrive is on foot, following historic footpaths and approaching over a long riverside meadow to see the old stone bridge topped with its statue of Britannia, and beyond that the golden manor house and its Italianate gardens spreading in terraces up the slope alongside.
Iford Manor was the home of Edwardian landscape gardener Harold Peto for over 30 years, until his death in 1933, and his designs have been restored and developed over the last few decades by the family who currently own the estate. Inspired by Peto's travels, the garden is a harmonious series of tranquil spaces and vistas shaped by architectural features, ornamented with sculptures and Grand-Tour style antiquities, and filled with colourful planting.
Although the manor, with its elegant Georgian facade concealing earlier origins, isn't open to the public, the gardens are open several days a week between April and September. Expanded recently, the manor runs a cafe-restaurant here with indoor and outdoor seating. Not just restricted to garden visitors, this also makes a very convenient oasis for walkers passing by in this corner of the Cotswolds Area of Outstanding Natural Beauty. In the summer the gardens host events such as evening music concerts; a very special setting for a memorable experience.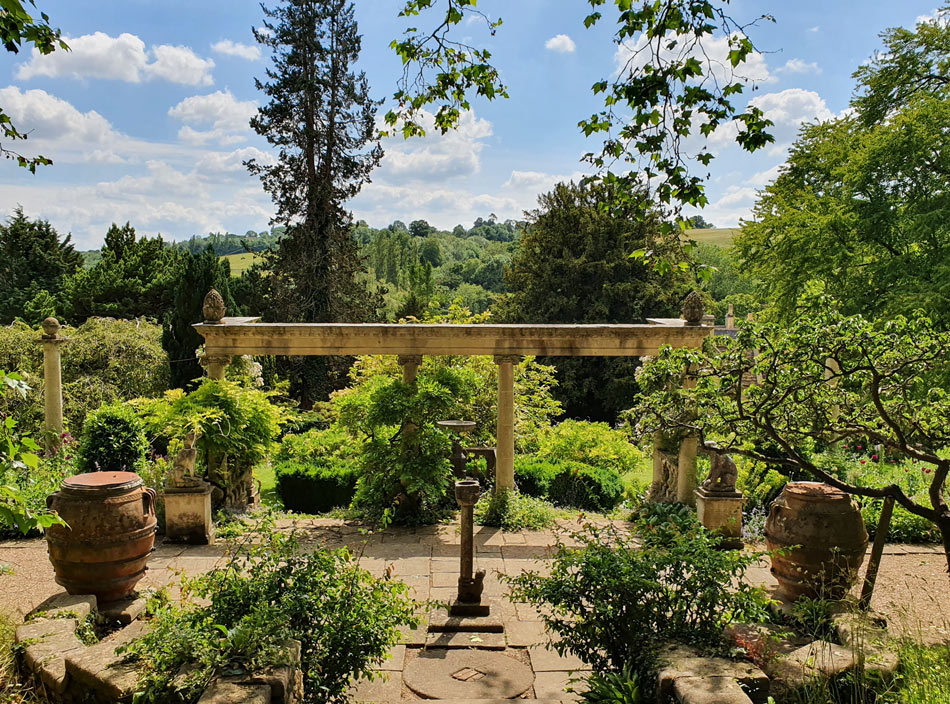 Iford Manor Garden charms visitors with tinkling water features, tiny, starry bright flowers crawling in profusion over stone steps, colonnaded terraces, clambering roses, dark pools, sloping lawns for restful moments, an enviable summer-house complete with fireplace, statues gazing over flowers and fields, and a woodland path. Peto combined architecture with planting, and the garden's structure is one of its most striking features, offering recurring framed views of the garden itself and the gentle countryside beyond. Although the area covered by the garden is not huge, there are many areas and gardens-within-a-garden to discover and admire. One of the garden's highlights is an exquisite cloister that seems to blend the best of Italy and England, its arched windows offering views over the green English countryside and grazing sheep.
The garden is a truly magical place. I still remember, from many years ago, a performance of Rosencrantz and Guildernstern are Dead in the cloister.  But a more recent visit, after years of absence, was a glorious rediscovery. I enjoyed an idyllic afternoon in the sunshine walking through the beautiful summer countryside, arriving over the statue-ornamented bridge as children examined their fishing nets, and then exploring the garden afresh.
From the moment you pass through a doorway in the wall, the gardens are overwhelming in their variety and beauty. I had the cloister to myself, I wandered along winding paths and everywhere discovered new beguiling views and delightful details. I enjoyed the expressions on the faces of other visitors, all equally charmed. My visit was completed by sitting on the sunny cafe terrace with a slice of blueberry and lemon drizzle cake decorated with flowers, before embarking on the walk home. It was hard to imagine an afternoon more exquisite, or that could more perfectly encapsulate the best of this corner of England.
Practicalities
Iford Manor Garden is generally open to the public from April to September, Wednesdays-Sundays plus Bank Holiday Mondays, from 11am to 4pm. Note that children under 10 are not admitted. Check the official website (Iford Manor Gardens) to confirm the latest opening times and details; online booking is available, along with special tours and events.
I'd allow at least 45 minutes to see the garden, ideally an hour or more if you'd like to take your time and relax to enjoy the atmosphere. Combined with a visit to the café and a country walk, it can make a complete day out on its own. Or for a fuller excursion you could consider combining Iford with a visit to Bradford-on-Avon, or to nearby Westwood Manor, a 15th-century manor house (National Trust). Note though that Westwood Manor is open three afternoons a week, so can only be combined with Iford on Wednesdays and Sundays – and you'd need to consider opening times when planning.
Walk (or drive) to Iford Manor Gardens
Freshford to Iford walk directions
For an environmentally-friendly and attractive way to travel to Iford Manor Garden, take a train to Freshford station (hourly trains; 9-minute journey) and then follow country lanes and footpaths to Iford, a walk of around half an hour.
There are a number of possible routes, as this area is well-served with rights-of-way. My favourite route is via the picturesque cottages of Sharpstone, and involves one uphill and one downhill, neither strenous.
After leaving Freshford station, turn right at the far end of Station Road, then left, then continue leftwards along the Tyning, signposted to Sharpstone. This lane continues to the short distance to Sharpstone, past some fine village houses and quaint cottages.
Turn left down Rosemary Lane until you reach a historic mill building, Dunkirk Mill.
(There's also a footpath alternative which runs above The Tyning from Freshford, starting a little way up The Glebe, later dropping to cross the lane and then descend via steps towards the mill – however this way you don't get to admire the pretty village houses.)
From Dunkirk Mill, take the signposted bridleway opposite the building's gateway. This leads to Friary, a riverside glade which once housed the lay brothers from nearby Hinton Priory. Cross between the cottages and follow a path along the valley through Friary Wood and across a long field beyond to the road, where you turn left to approach Iford and its dramatic statue-topped bridge.
Other walking options
Enthusiastic walkers can hike all the way to Iford from Bath (I'd guess an energetic two and a half hours or more on foot, be prepared for ups and downs) or combine walking with train or bus connections.
Trains from Bath Spa station stop at Avoncliff, Freshford and Bradford-on-Avon, all of which make good starting or end points for a walk involving Iford, and local buses serve some nearby villages, though infrequently: for example the 94 connects Bath, Monkton Combe, Freshford and Westwood, on weekdays only (Libra Travel).
I walked from the southern edge of Bath, via Combe Down (bus 2 from Bath), Monkton Combe, Limpley Stoke, Freshford, Sharpstone and Friary Wood, a brisk hour and three-quarters which took in a range of beautiful scenery: limestone villages, woodland, valley views and meadows. I'd recommend an OS Explorer map, as some of the local village streets and footpaths can be quite confusing.
Read more about country walks in this area: Country walks around Bath.
Iford by car
Iford can also, of course, be reached by car from Bath, via the A36, and there is a visitor car park at the Manor. Note that the country lanes approaching the manor are narrow. Cyclists can combine a garden visit with a bike ride along the lanes leading from the Kennet and Avon canal route.
Iford on film
The 2020 film of The Secret Garden, with Colin Firth, included scenes shot in the garden at Iford, and ITV's series Sanditon also used Iford as a filming location.
Stay near Iford
If you want to relax further into the rural charm of the area, three of the nearest places to stay overnight near Iford are the luxurious Homewood Hotel & Spa next to the A36, the Ivythorpe Coach House holiday rental in the pretty village of Freshford, and the Best Western Limpley Stoke Hotel. You can walk from these to Iford gardens along woodland and meadow footpaths or follow rural lanes.