If you are looking for a luxurious country house hotel near Bath, or if you want to spend a relaxing break in the green countryside rather than the town, there is a good selection of countryside accommodation available around Bath. If you are a keen walker, you are likely to find interesting rambles on your doorstep, and if you are touring the surrounding area by car, you may be glad to avoid returning every day to the one-way systems and queues in central Bath.
The country house hotels below vary in their proximity to Bath – I would recommend checking the location maps provided, and also reading the most recent reviews to be sure of what kind of stay to expect. Want to spend more than a couple of days exploring Bath itself? Then I'd suggest staying in a townhouse hotel in the city, to save the hassle of driving in and parking. And I've suggested one hotel with a 'country house' feel that's only just outside the centre. But for a day or two in Bath and a relaxing stay in elegant countryside surroundings, perhaps while driving to other local towns and attractions, these hotels might be just what you're looking for.
One of the nearest country house hotels to Bath, 4-star Homewood is just off the A36, only 5 miles south of Bath – highly-convenient for access. Though the road's proximity might be unromantic, the hotel is situated on the edge of the Limpley Stoke valley, one of the most beautiful stretches of countryside around Bath. I pass the the hotel's driveway on several of my favourite country walks, as there are many good footpaths close by. It's ideal for guests interested in rural exploration and walks to country pubs, gardens, river paths and pretty villages. The hotel has its own gardens, spa and pool, for when you want to take it easy or to unwind after an invigorating walk or a day sightseeing in Bath.
> Homewood Hotel & Spa – check availability and book
For a 5-star country-house experience within the city itself, The Bath Priory is a good choice. Though it doesn't have the rural views of other hotels, it does have large and lovely gardens. Located in Weston, close to the edge of Bath but in walking distance of the town centre, the Priory is based in a handsome historic building, with modern additions alongside. With a garden spa, gardens, family-friendly facilities and with a range of room types and suites, including four-poster bed options, it has something to please most visitors and offers a peaceful luxurious haven for visitors enjoying a city break.
> The Bath Priory – check availability and book
Eight miles to the north-east of Bath, Lucknam Park is well-placed for guests who want to explore the Cotswolds as well as Bath itself. A Georgian stately home set in 500 acres of parkland, the hotel has a large historic garden, an arboretum, a sculpture trail, running and walking paths, an equestrian centre, croquet and tennis courts as well as a spa. The grandest (and most expensive) suites are opulent and boast four-poster beds. A good choice for living the highlife: horse-riding followed by fine dining and maybe afternoon croquet. It's the only hotel I've seen offering duck-herding as an activity (at considerable extra expense). Also ideal if you fancy an active countryside break as well as time exploring Bath.
> Lucknam Park Hotel – check availability and book
Two miles from the heart of Bath, on the north-eastern side of town, this elegant eighteenth-century mansion offers comfortable and high-standard 4-star accommodation both in the historic building and a modern development alongside. Dog-friendly, the hotel caters for meetings and weddings and has its own restaurant, Cloisters.
> Bailbrook House – check availability and make a booking
A boutique Georgian farmhouse hotel outside Bradford on Avon, Widbrook Grange has just 19 rooms, refurbished with a tasteful country home style. Dog owners and hygiene purists might both want to note that one of their marketing photos features a dog sitting on a bed – however, only certain rooms are dog-friendly, so canine visitors should be arranged in advance. With a garden, an indoor pool, a restaurant offering 'farmhouse cuisine with a gastro twist', log-fires and a gin bar, it's a good place for a stylish, low-key and relaxing break. There's easy access to the picturesque canal towpath and footpaths for walkers, and it's well-placed for exploring both Bradford on Avon and Bath (around 30 minutes' drive, or a short train ride from Bradford Station, a mile away).
> Widbrook Grange – check availability and make a booking
Aimed at families with young children, Woolley Grange is a lovely Jacobean manor house near Bradford on Avon with two pools, playrooms and other activities and facilities for children and their parents, including a children's club and childcare. With gardens and outdoor spaces to explore and play in, the hotel is a nice option for a family holiday, and around 30 minutes from Bath by car.
> Woolley Grange – check availability and make a booking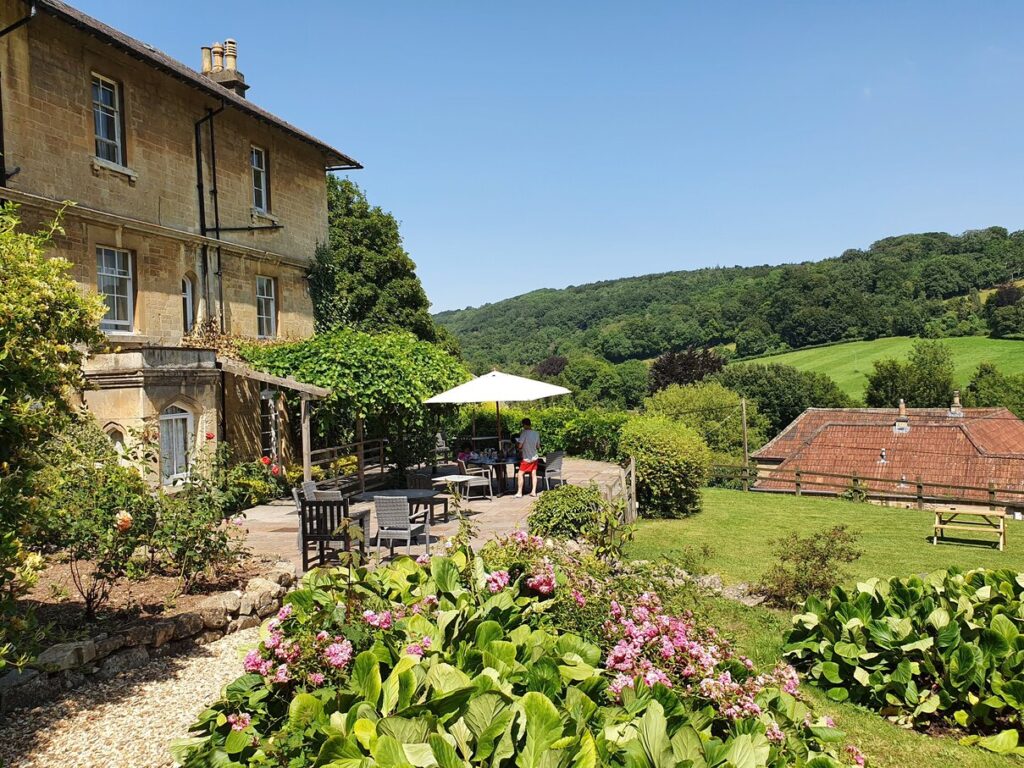 A less luxurious, more budget-friendly alternative to the smart country house hotels above, this Best Western Hotel in the village of Limpley Stoke has a reputation for somewhat tired decor, and mixed reviews. But it's an attractive building in an attractive setting in this green and luscious valley, where there isn't much other accommodation available. Countryside accommodation for people who like the countryside, it's in an excellent location for keen walkers, with lots of good local footpaths as well as the canal towpath nearby. The views and setting are lovely, but I would advise reading the latest reviews when booking, to form realistic expectations.
> Best Western Limpley Stoke Hotel
A bit further afield
Close to Chippenham and around a 40-minute drive from Bath, Bowood Hotel is a luxurious 4-star hotel with pampering spa facilities, a pool and restaurants. Set within the extensive Bowood Estate, its green landscape designed by Capability Brown and with a modern 18-hotel golf course, it's a place to spend time as well as a touring base. Guests have free access to Bowood House, the estate's stately home, and gardens (when open). The hotel is modern, but in a traditional country-house style, and has a variety of room types, including some with balconies and views.
> Bowood Hotel, Spa & Golf Resort – check availability and book
I admit I fell for this hotel when I read a review by a guest who said they ordered a drink by mobile to be delivered to the bird hide. With a spa, a private cinema you can hire, and a Michelin-starred restaurant, Whatley Manor is worth considering if you're interested in exploring the Cotswolds as well as Bath, and don't mind driving. One of its most notable features is attractive and extensive gardens incorporating fountains, a wildflower meadow, a woodland and a rose garden. The luxury manor house hotel is near the town of Malmesbury and around 45 minutes from Bath.
> Whatley Manor – check availability and book