Bridgerton Bath – *Includes Series 2 and new Series 3 updates*
The smash-hit Netflix drama Bridgerton may be set in an American fantasy of Regency-era London in 1813, but many of the scenes of the first series were actually filmed in Bath, in south-west England. With its handsome Georgian architecture, and loads of experience as a film and TV set, Bath is probably the best place in the UK to shoot elegant historic town scenes. A big proportion of the outdoor shots in Bridgerton feature this famous small city, and a few interior scenes were filmed here as well. The lavish series had filming locations scattered around England, but if you want to see as many as possible close together, and live the Bridgerton atmosphere for yourself, the many Bridgerton filming locations in Bath make it the best destination you could choose. Here you'll find a guide to the Bath filming locations and tips for where to stay for an elegant Bridgerton break.

Why Bath?
The great thing about Bath as a film location is that the city has conserved so much of its historic appearance. It's even a UNESCO World Heritage Site for its history, architecture and integrity. With filming in mind, as well as overall appearance, there are even 'period' lamp-posts in the streets, and plenty of locations where only minimal alterations need to be made to give the impression of going back in time. Some of the city streets are still paved with stones rather than tarmac, and heritage listing restricts owners from modernising their buildings, windows or doors – even the colours of front doors can cause a local controversy.
In Bath it's not too hard for film-makers to conceal traces of the modern world. If you compare scenes in the Netflix series with the 'real' scenery of the Bridgerton filming locations in Bath, you can see that a modern door buzzer panel may be concealed by a small box tree, or a modern shopfront hidden behind a stack of crates and an awning. Where the paving stones change to tarmac, or where there are double-yellow lines, the film-makers have covered the ground with dirt. If a modern building spoils the look, the angle of shot can keep it out of sight. But really, not a great deal has to be changed in order to shoot brief scenes with a historical look that feels authentic.
Walking around the beautiful centre of Bath and exploring the streets lined with handsome Georgian terraces, it's easy to feel as though you are going back in time (as long as you can ignore the parked cars), and to experience for yourself the charm on display in Bridgerton and the other productions filmed here over the years.
Visiting 'Bridgerton' Bath
You could visit all the notable Bridgerton locations in Bath during a single day out, and I've also written a self-guided walking tour to help fans explore the world of Bridgerton Bath. However, to really appreciate the atmosphere of the historic city as well as to see it at night, when it has an other-wordly charm, it's really worth staying for longer. There are lots of good places to stay in Bath, including central hotels and apartments where you could sample a little of the Bridgerton lifestyle. If you enjoy Bridgerton, you will almost certainly also enjoy Bath, not just for the TV connections but for its look, charm, boutiques, food, laidback vibe and for the chance to live the elegance of another era (along with the best of the modern world too) – so why not try a short break, a week's stay, or a West Country touring holiday? I've also put together a detailed guide for making the most of a Bridgerton break in Bath, from afternoon tea to the ideal place to stay.
Bridgerton filming locations in Bath – in detail
Scenes shot in Bath are easy to spot. That pale honey-coloured stone is the local limestone, Bath stone, and is easy to distinguish from the darker stone, brick and white stucco used in London and elsewhere. That long grand curved terrace with a grassy lawn in front of it, featured so heavily in the Netflix series? That's Bath's famous Royal Crescent, the city's most striking landmark.
The very first scenes of Series 1 of Bridgerton are three shots of Bath in the sunshine, to set the atmosphere of the series. The elegant members of the ton promenade with parasols along Alfred Street, exchange greetings with friends on the Royal Crescent and take a stroll down Bath Street, where two colonnades lead to an ornamental structure housing the Cross Bath, one of Bath's historic hot thermal baths. There's another glimpse of the Cross Baths a few seconds later, where I'm pretty sure you can glimpse a parking notice on a lamp-post and a distinctly un-historic sticker in a window.
Here's a full guide to the Bath locations used in the series:
Royal Crescent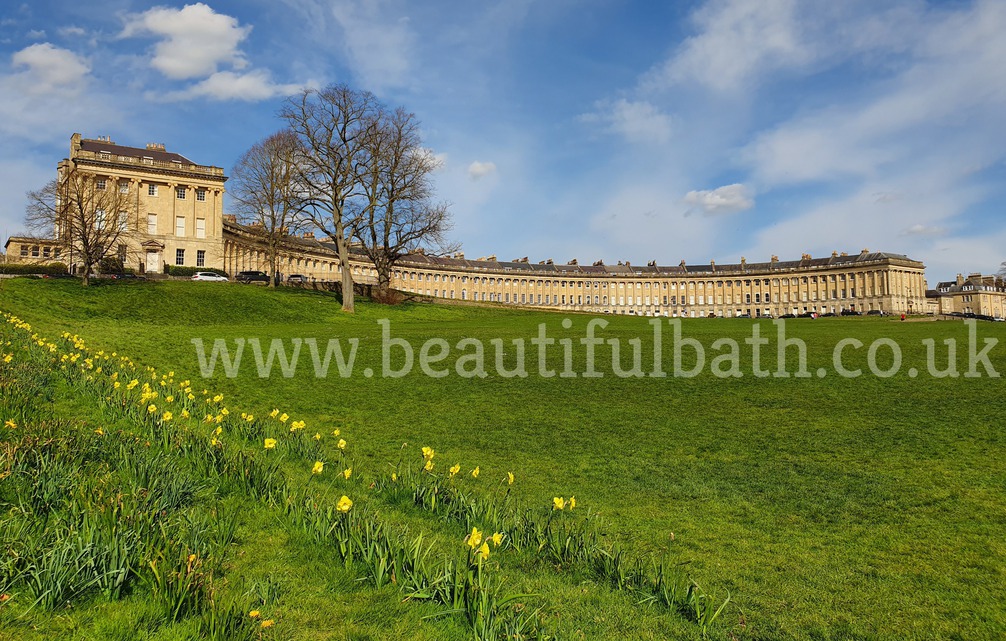 Bath has many grand terraces and crescents designed to impress the visitor and to make the spa city a prestigious destination for Britain's 18th-century elite. The city's fine architecture and warm-coloured stonework was created as the perfect backdrop for the promenading Georgian upper classes in their finery, just as you see them in Bridgerton, set in the early 19th century, a little after Bath's fashionable heyday. Of all the elegant streets, the Royal Crescent is the city's most impressive. It looks out over a green park which is a popular hang-out spot in summer. The curved lawn directly in front of the Crescent is for the private use of the Royal Crescent's residents, and separated from the park by a concealed wall called a ha-ha.
The Royal Crescent features in many scene-setting shots in Bridgerton, some featuring errand-boys delivering Lady Whistledown's latest scandalsheet. It's the backdrop to a thrilling ride on horseback to a duel in Series 1, Episode 4. In January 2023 the Bridgerton crew were back onsite to film more colourful scenes here for Series 3.
No.1 Royal Crescent
The exterior and entrance hall of this Georgian house museum, at the right-hand end of the Royal Crescent, was used as the Featheringtons' London home. The simplicity of the building was 'blinged up' to suit the pretensions of the Featherington family, with ornamental features added to the façade: roundels, window pediments, a frieze and a CGI balcony. The front door was painted a dark blue. This doorway, No.1 yet not No. 1, is seen in many shots when the Featherington women troop in and out of their home in their colourful finery. In wider shots, the house is inserted into an artistic recreation of Georgian-era Grosvenor Square in London.
The interiors of No.1 Royal Crescent are furnished and decorated as they would have been in the last years of the 18th century. It's a must-see if you're into the décor of the era and might provide some glamorous interior design inspiration. New initiatives are planned for the museum including immersive experiences which could be a perfect activity for Bridgerton fans.
Abbey Green
This pretty little square, irregularly shaped with a tree at its centre, lies in the heart of Bath between Marks & Spencer and the Abbey, two important local landmarks. Used heavily in Series 1 of Bridgerton, Abbey Green serves as a backdrop – with added market stalls – for shopping trips and strolls. The Modiste dress shop where the characters have their clothing fitted is here; previously a cafe and now a deli – The Abbey Deli – where you could buy a hot drink or picnic lunch. Film-makers used the actual interior of this shop for Bridgerton, not just the shopfront.
Alongside, an imposing doorway under a triangular pediment is the entrance to the lodging of Anthony Bridgerton's opera singer lover Siena, where he turns up banging on the door the night before a duel, followed by a passionate encounter in the doorway.
As you watch the series, you'll see characters promenading up and down the lanes here on several occasions. Best friends Eloise and Penelope enjoy one of their gossip sessions as they shop at market stalls in the square in Series 1, Episode 4. And the more modern arch at the lower end of the square, alongside a coffee shop and opposite the back entrance to M&S? That's where the aloof Duke of Hastings gets hopelessly falling-down drunk (Series 1, Episode 5).
Trim Street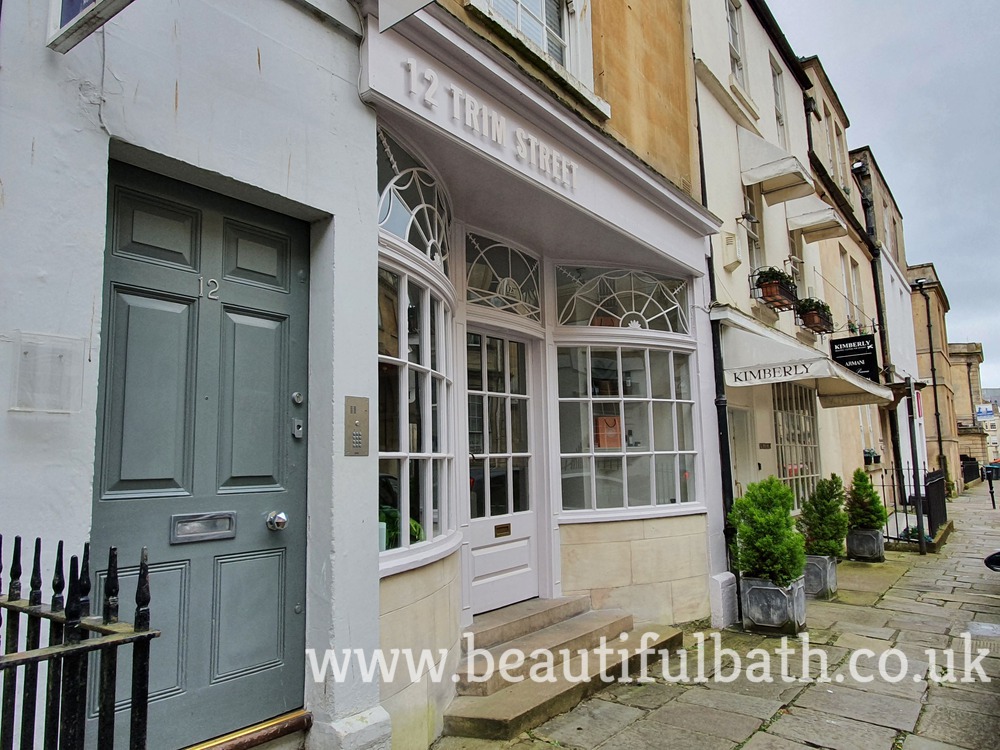 This unobtrusive little street is charming in its own right, but Bridgerton fans will be extra charmed on Trim Street to find the curved windows of Gunter's Tea Shop, where Simon and Daphne meet and the Salacious Spoon-Licking Incident takes place (Series 1, Episode 3). Later in the same episode they hold an emotional conversation by the grey door alongside, when Simon ends their friendship. In reality the 'café' is a hair salon called 12 Trim Street. Bridgerton ladies like to browse the window displays at a Hat Emporium next door – in less of a function switch, this is actually a women's clothes store. Incidentally Gunter's was a real tea room in Regency London, famous for its ices, and after the pioneer of the Regency Romance genre, Georgette Heyer, featured it in her novels, it became a staple ingredient of her imitators' works.
Beauford Square
Just along the road from 'Gunter's' is this quiet square to the side of Bath's historic Theatre Royal. In Bridgerton a number of carriage journeys and horse rides take place through Beauford Square, as well as shots where characters stroll and chat – including the scene where a confused Penelope and Eloise discuss the mysteries of pregnancy (Series 1, Episode 2). I thought the three trees in blossom in the film shoot were an attractive addition to the grassy lawn. A post-wedding carriage ride also passes through the square.
Holburne Museum
This jewel of a museum stars in Bridgerton as the exterior of Lady Danbury's townhouse. It appears early on in the production, as she welcomes Simon back to London and later holds a grand ball (Series 1, Episode 1). Later it appears again, for example as she and Simon talk outside (Series 1, Episode 2).
In the Bridgerton era, the building was the Sydney Hotel, built as part of a complex of pleasure gardens, now a public park. Fashionable visitors to Georgian Bath would dine and be entertained here. Later a private home, the Holburne Museum now houses a collection of art. A very contemporary extension to the building is carefully hidden by the angles of filming for Bridgerton. The museum is worth visiting, and the Sydney Gardens behind still feature ornamental temples as well as bridges over the canal and railway.
Netflix viewers paying close attention might notice that the decorations on the façade of the museum are similar to those added by the production designers to the front of the Featherington house/No.1.
*Update May 2021 – Series 2 filming*
Heroine Kate Sharma and her sister Edwina are guests at Lady Danbury's house in Bridgerton Series 2, so the Holburne Museum once again played its part, and was (I think) the only Bath location to be included with fresh scenes. In Episode 2 Anthony arrives outside the building with a horse as a gift for Edwina. I walked past by chance in May 2021 when filming was taking place, and spotted the building surrounded by filming equipment and vehicles, with telltale floral arrangements in view. There was a lot of secrecy about the filming and even a fake production name used, but those flowers were a giveaway that Lady Danbury was preparing to host another party.
*Update January 2023 – Series 3 filming*
Once again the Holburne Museum looks set to appear as Lady Danbury's house in another series of Bridgerton. As I'm writing this update, the palatial residence is adorned with flowers that are more lavish than ever. In a freezing winter week, fake roses decorate the bushes outside the museum, a contrast with the frosty ground. It seems that the new series may look even more spectacular than the last two.
Assembly Rooms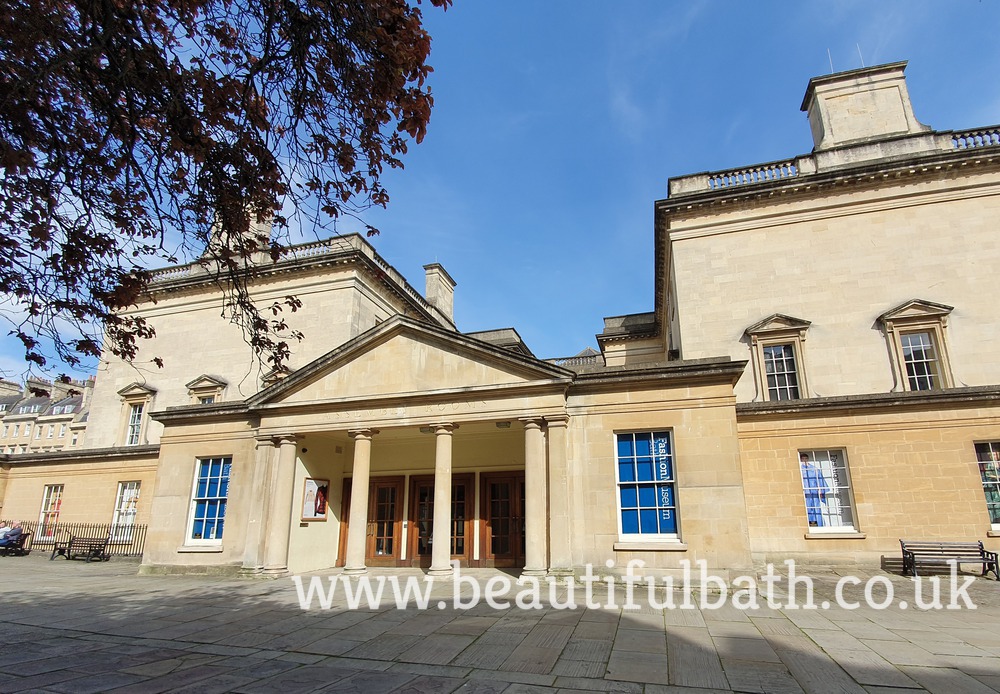 Lady Danbury's ball in Series 1 Episode 1, where Simon and Daphne first meet, was filmed in the Tea Room of Bath Assembly Rooms, built for public social functions in the 1770s, and rebuilt after being bombed in the Second World War. The antique chandeliers were lowered from the ceiling to feature more dramatically in the ballroom scenes. Until recently the public rooms could be toured, or hired for events. At the time of writing, though, they are closed for redevelopment by the owners, the National Trust. Set to re-open as a tourist attraction in 2026, the rooms may be open for visiting before then – keep up-to-date with plans on the National Trust website.
Bath Street
Bath Street is right in the heart of the shopping centre of Bath; a short but grand street with a row of colonnades on each side. It's not all as old as it looks; one side of the street was rebuilt in the 20th century. However, it's convincing on camera and appears in many period dramas shot in Bath. In Bridgerton we first see the street in the initial montage of street scenes, and later on several occasions, including Simon's arrival in town on horseback. In Series 1, Episode 1,our hero is first seen on horseback, cantering from the direction of the Roman Baths, visible behind him – and rides past Bath's local branch of Primark. At the other end of the street is the low curved building of the Cross Bath, one of the historic baths for which Bath is famous. It's now part of the Thermae Bath Spa complex; you can visit to use the bath or just take a peek inside. This pretty little building can be seen in the backdrop to a number of Bridgerton scenes. Simon's horse ride, however, miraculously takes him to the other side of the city centre, and Lady Danbury's house, AKA the Holburne Museum.
Guildhall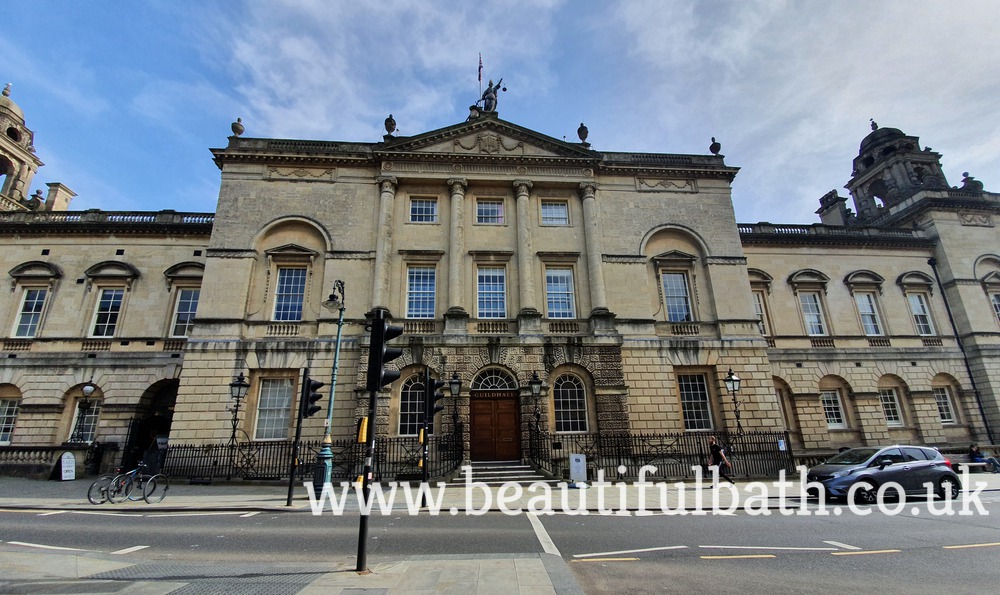 Bath's Guildhall was used for some interior ballroom scenes – you'll see it featured in Series 1, Episode 2 as the setting for the Rambury ball. The venue can be hired and is occasionally used for real-life balls. I've danced at balls here in the past, and each year a local historic dance group, the Bath Minuet Company hosts a Georgian Ball in these impressive surroundings. Other historic dance groups hold classes and events locally too, including the Jane Austen Dancers, whose Regency period makes them most aligned with the Bridgerton era, though their dancing aims for more historical accuracy than the TV series. Maybe with the popularity of Bridgerton, more historical events might be on the cards.
* Update* – Series 3 new location: Edward Street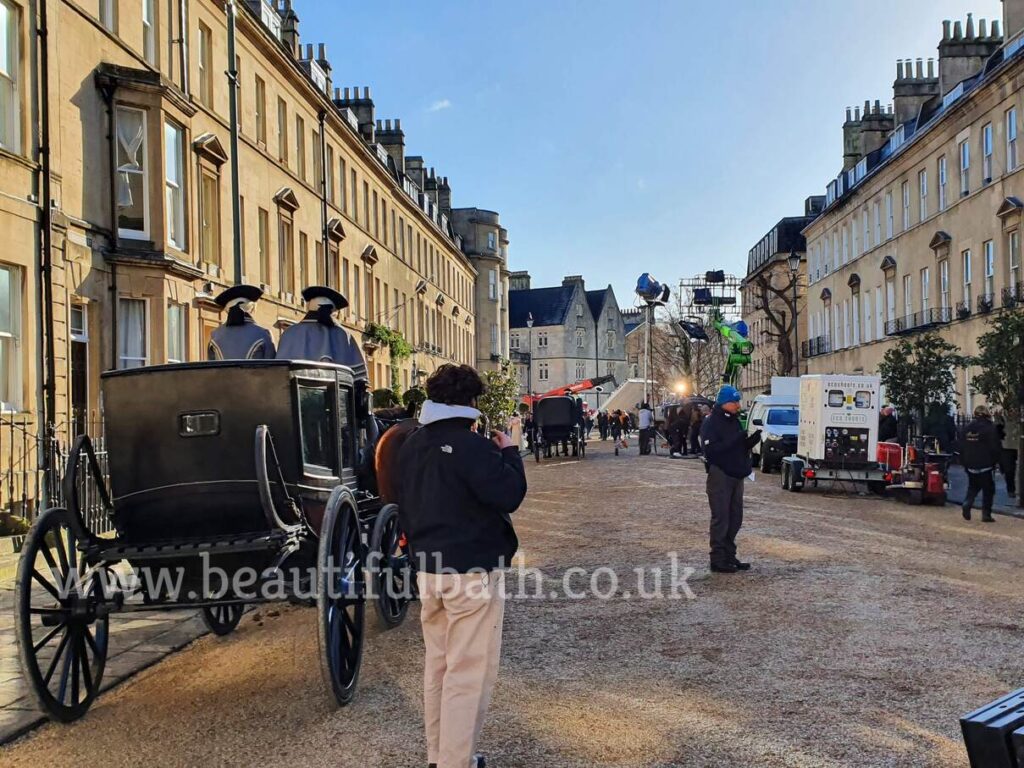 Close to the Holburne Museum, this stretch of road lined with Georgian terraces has been used in 2023 to film outdoor scenes for Series 3. Closing this side-street off meant that it became a full-on movie set, with added decorations and trees, given a new temporary surface and ready to stand in for Regency London. I saw some of the filming take place here in Edward Street on two very cold January days.
> My two days watching filming for Bridgerton Series 3
Want to know more?
A Bridgerton Special from local magazine Bath Life features a couple of detailed articles about the filming of Series 1, including an interview with Bridgerton locations manager Paul Tomlinson. Lots more behind-the-scenes features and videos can be seen on the official pages of the production company Shondaland: Bridgerton behind the scenes – along with updates on forthcoming filming and seasons.
Stay in Bath, Bridgerton-style
Bath's a great place to visit for a weekend break or longer stay. If you're a fan of Bridgerton or the Bridgerton lifestyle, you could try to recreate it in your own travel experience.
For a taste of Regency Bath, with visitors dressed in historic costume, consider visiting in September during the annual Jane Austen Festival, which can be fun to witness even if you're not a participant. At the time of writing there is still another series of Bridgerton yet to be filmed (currently four series are planned) … so if you're really lucky you might find yourself in Bath at the same time as your favourite show and actors.
Find my tips for a Bridgerton-inspired getaway, from the most 'Bridgerton' hotel to the poshest afternoon teas. Live and holiday like a member of the ton!
Note: Hotel links are affiliate links – if you book your accommodation through these you won't pay any extra (Booking.com have a price guarantee you can use if you find the same room cheaper). But you will be helping to keep this website online. Not ready to book? Why not bookmark the link if you want to use it later? Thank you for your support.