Although most people visit the city as a short break destination, Bath is actually a great base for a longer West Country holiday. Attractive in itself, the town is also well-placed for exploring the region by car or public transport. This part of England is green and rural, and dotted with historic sites. As well as the beautiful countryside, there are also interesting old towns, ruined castles and stately homes to visit and local products to investigate – and the coast is only a short journey away. Members of English Heritage or the National Trust will be able to get good value from their membership cards in this area.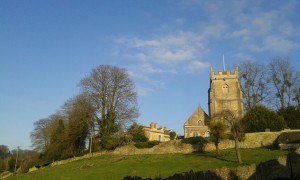 Here is a selection of the best day trip destinations and excursions from Bath.
Historic towns
The important historic port of Bristol is a short car, bus or train journey from Bath. There is a lot to do in Bristol; from boat trips around the docks to museums and a good zoo. Smaller, well-preserved historic towns in the area include include Bradford-on-Avon and Frome. Wells is another popular tourist destination: a charming small cathedral city, which can be reached by bus from Bath.
Villages
One of the most picturesque villages in the Bath area is Lacock. This picture-postcard settlement is mostly owned by the National Trust, and has been used as the backdrop for various TV/film period dramas, including the BBC's Pride and Prejudice. The charming villages of the Cotswolds are in easy reach of Bath, while Somerset destinations include Norton St Philip, site of a historic battle.
Caves and gorges
The hills around Bath are low and gentle, but some much more dramatic scenery can be found in the Mendip Hills to the south-west of Bath, where tourist attractions include the deep and rocky Cheddar Gorge. The town of Cheddar is also famous for its cheese. More natural phenomena can be marvelled at in Wookey Hole Caves, a dramatic sequence of underground caverns.
Ancient monuments, castles and historic buildings
Stonehenge (English Heritage) is a must for many tourists, and can be visited on a bus tour from Bath. The site can be combined with a visit to the larger stone circle at Avebury. Dyrham Park, owned by the National Trust, is a stately home close to Bath which was used as a location for the film Remains of the Day. Other castles, ruins and historic houses are dotted around the area.
> Farleigh Hungerford Castle
> Stonehenge
Gardens
In this region of England there are some superb gardens to visit. As well as Prior Park Gardens in Bath, the National Trust also own the famous landscaped gardens of Stourhead. Westonbirt Arboretum in Gloucestershire is a must for tree-lovers, while Iford Manor offers both a pretty garden and summer opera and jazz concerts.
> Iford Manor Garden
> Westonbirt Arboretum
By the sea
If you prefer the seaside, one of the nicest resorts that can be reached from Bath is Weymouth, in Dorset, a traditional seaside town which has been coming back into fashion. The traditional local resort for the Bath area is Weston-super-Mare (bus or train from Bath), where donkeys ply their trade on the muddy beach.
Tourist attractions
Tourist attractions dotted around the Bath area include farms, Cheddar-making dairies, cider producers and museums. Many of the local attractions make good destinations for families with small children.