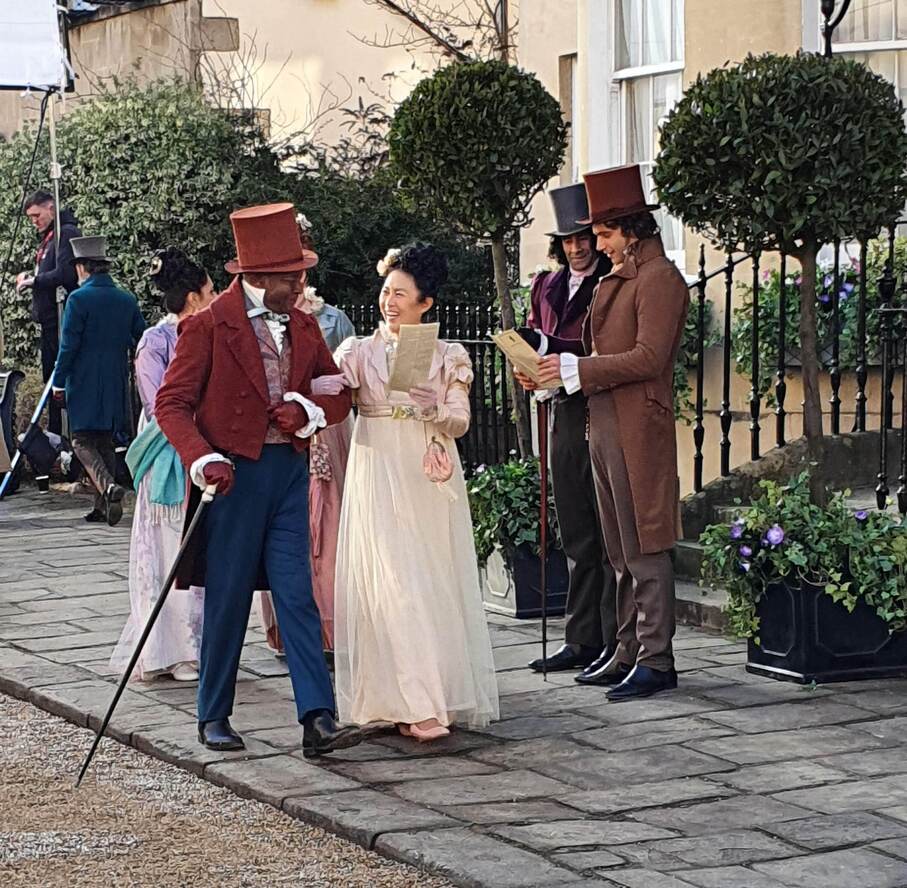 Beautiful Georgian Bath, in south-west England, has a whole host of attractions to delight fans of Bridgerton. Romantic break? Girls' weekend? Hen do? Solo pilgrimage? A Bridgerton-themed break in Bath is a great way to enjoy the best of this elegant city and pay homage to the groundbreaking Netflix series at the same time. There are heaps of stylish things to do and places to visit here, in addition to touring the handsome historic streets and buildings you'll recognise from the TV series. From a walking tour of filming locations to posh afternoon tea, from historic interior design inspiration to a dreamy boutique townhouse stay, read on for suggestions for living your very own Bridgerton experience.
Netflix's TV reworking of Regency romance featured this movie-set of a city heavily in Bridgerton Series 1, bringing a new youthful wave of tourism to the historic spa destination. After fleeting flirtations with Bath in Series 2, the production rolled up in early 2023 for several days' filming in front of Bath's grandest Georgian scenery – so you can expect to see more of the city as the newest storyline unfurls. For more on the locations featured, read my guide to Bridgerton locations in Bath.
A Bridgerton-themed break in brief
Stay in style
Stroll elegantly around the city streets following my Bridgerton walking tour
Sip afternoon tea and feast on cakes
Impress a suitor with your cultural credentials admiring art or history
Indulge in a Bridgerton-inspired cocktail hour
Pamper yourself with a spa visit
Shop in Bath's finest boutiques, modistes, chocolatiers and indoor market
Eat, drink and be merry, from fine dining to deli treats
Read on for my detailed recommendations to plan your ideal break and get the most from your time in Bath.
Travel to Bath
Bath is well-connected by rail, with trains from London taking only an hour and twenty minutes to reach Bath Spa railway station in the town centre. Departures are from London Paddington, which is served by several underground tube lines and the new Elizabeth Line. There are trains every half hour for most of the week.
Public transport is the best way to visit Bath for a short break, and not just for motives of environmental awareness and sustainability. Bath's central network of historic streets is notoriously difficult for drivers, with frequently-changing one-way systems and access restrictions. Parking is an issue, too, with most central hotels and B&Bs situated in historic terraced buildings with no car parks. If you do drive, you'll find it easier to select accommodation with parking available, probably outside the historic centre. For a short break, though, a car isn't very useful unless your mobility is restricted – the centre of Bath is best visited on foot; walking will give you access to parts of the city which are closed to traffic. There are open top bus tours which offer a view of the wider city.
A Bridgerton-style stay
To enter into the Bridgerton spirit, your accommodation choice is an important factor. You'll want to bask in a stylish ambience, surrounded by history at its best. Maybe you want to evoke the period feel of Regency England, or perhaps you'd prefer to embrace a chic modern equivalent – the kind of boutique lodging that modern-day versions of Daphne, Anthony and their siblings would choose if they visited Bath today?
Location is going to be important. Bath is atmospheric, charming by day and night. There are tempting shops and tea rooms, warm pubs and fine restaurants. Ideally your accommodation should be central enough to take advantage of all these delights on your doorstep, especially if you are only in town for two or three nights.
A Bridgerton stay – top places to stay
These are my top recommendations for a Bridgerton-inspired stay in Bath. Sleep in a fine Georgian townhouse, unwind in elegant surroundings – and you can even choose a lodging that has doubled as a Bridgerton set. All links are affiliate links, so if you use them to book your stay you will be helping support this website without paying more. Thank you!
Dukes is my top choice for a Bridgerton stay in Bath because not only is it a luxurious and elegant boutique guest house in a beautiful, central location – but it also has a superb Bridgerton connection. Scenes for Series 3 were shot in this street, and the hotel building itself was used by the production as a base and as a backdrop to promenading scenes. So you can watch Series 3 and say 'I stayed there!' (See my photos and videos of the filming outside – of course there is no guarantee these scenes will reach the screen). Even the name may appeal to Series 1 fans in particular. Set in two Georgian townhouses on the corner of Great Pulteney Street, this charming B&B is in Bath's grandest historic district, conveniently located between the Holburne Museum and Pulteney Bridge – just a few minutes from the bustling heart of town, but in quieter surroundings. Read more / make a booking
5-star luxury at the finest address in Bath, at the centre of the Royal Crescent, along the street from the 'Featherington House'. Feel like a star in so many different period dramas every time you step out the door. Read more / make a booking
In a prime spot in the Georgian upper town, close to the Assembly Rooms, this stylish and airy four-star hotel is popular with guests and has a Michelin Star restaurant, The Olive Tree. Only a stroll away from the Royal Crescent and a short walk downhill to reach Bath's shopping streets. A special place to stay. Read more / make a booking
This boutique guesthouse is centrally located in a historic terrace in Henrietta Street, close to Pulteney Bridge. The Kennard has an elegant look with chandeliers for a bit of Bridgerton luxury, and a small Georgian-style garden. Read more / make a booking
The Gainsborough Bath Spa is a luxurious modern five-star hotel in the heart of Bath, close to shops. It may not be such an atmospheric setting as some of my other recommendations, but this a good choice for contemporary comfort. One of the biggest attractions is that the hotel has its own spa which uses the city's famous thermal spring waters – while the designs and interiors are very twenty-first century, the building is historic and was once a hospital. Read more / make a booking
Admittedly the Victorian villa setting is not quite the right era for Bridgerton – but if you are looking for a comfortable and special stay, still a short walk from the town centre, this is a good possibility. With a garden, tea and cakes and a full afternoon tea menu – plus cocktail list – the Roseate Villa is a hotel which offers a place to relax and enjoy yourself as well as sleep. Read more / make a booking
Holiday apartments
I suspect the Bridgertons and their aristocratic friends would struggle if they were not waited upon, ideally by trusted family retainers. But if you'd prefer an independent stay, with more privacy and the option of self-catering, there are some convenient central flats to choose from. Why not dress your accommodation up with some flowers and create your own Bridgerton ambience? Book well in advance for these flats, as they fill up. There may be a minimum stay of two or more nights.
Hiding Space – Trim Street Apartments – Stay on the same street as Gunter's Tea Room in these comfortable studio apartments, right in the heart of Bath.
The Green Leaf Apartment – Its central location probably won't be the quietest, but you couldn't get nearer to the world of Bridgerton than this holiday flat on Abbey Green, the little square that is home to the Bridgerton Modiste. Don't expect to find any drunk dukes slumped outside, however.
18 The Circus – In one of Georgian Bath's great architectural set-pieces, this smart apartment sleeps 5 and would make a very suitable base for a high-society weekend away.
Other attractive holiday apartments in Bath include 1, Georges Place, a stylish three-bedroom apartment sleeping up to six which is a short walk from the centre of town. The Danbury, a two-bedroom modern flat with a name which may appeal, is right in the centre of the city close to the shops.
Eat, drink and explore: activities for a Bridgerton break in Bath
Dress up and promenade
Bath was designed in the Georgian era as a showcase for the age: elegant buildings in the local honey-coloured stone, designed as backdrops for elegant lives. It is a city for strolling around, for promenading, window-shopping, enjoyment and for seeing and being seen. As you'll probably do a lot of walking, I do recommend comfortable clothes and flat shoes for the daytime – but if you want to go Full Bridgerton and dress up in your finest ensembles, who can blame you? For a true Regency style-fest, visit during the autumn Jane Austen festival and take part in the joyful costume-wearing, as literature- and history-lovers relive their favourite era. Even if you don't dress up yourself, this is a fun time to be here, see the costumed parade and admire women, men and even dogs strolling around Bath in their lovingly-tailored finery.
The central shopping area and the Georgian streets around the Circus and Royal Crescent are prime promenading arenas. And a stroll from Pulteney Bridge to the Holburne Museum takes you through one of Bath's grandest panoramas. Bridgerton linking scenes showing high society out strolling have been filmed in the Royal Crescent, Trim Street (by 'Gunter's') and in Edward Street, just off Great Pulteney Street.
For a greener promenade, try Victoria Park and its botanic gardens, or the central Parade Gardens (admission fee) by the river Avon. See below for suggestions of a more energetic ramble, with a Bridgerton-esque Palladian bridge included at Prior Park Landscape Garden.
Tour Bridgerton locations
I've planned and written up a detailed self-guided walking tour of filming locations. This takes you to all the Bridgerton places in Bath, and allows you to pace yourselves, taking a break whenever you want for a picnic or café visit. If you'd prefer the cameraderie of an accompanied tour, you'll find a number of individual guides and companies offering paid tours.
What would a Bridgerton do?
Once you've sorted out a place to stay and toured the Netflix filming locations, it's time to ask yourself: what would a Bridgerton do now? Bath truly was a resort for the rich and privileged in the Georgian era, so it's not too difficult to come up with ideas for a weekend of traditional leisure pursuits. The Netflix series, of course, blends contemporary concepts with a period setting, as in their music choice of classically-performed twenty-first century hits. You could do the same with your Bath vacation -and give the Bridgertons' lifestyle an update to suit present-day Bath.
Bridgerton break 'must-sees' – art and culture
As well as living in art-filled homes, Bridgerton characters enjoy a chance to visit an art gallery. Daphne and the Duke tour a gallery in Series 1, while an important scene takes place among paintings and suggestive sculptures in Series 2. And Benedict, of course, dreams of an artistic career. I think we can be sure that Bridgerton visitors to Bath would pay a visit to one of the city's cultural destinations and take time to find a favourite painting or sculpture to contemplate, in between flirting and society chit-chat.
The Holburne Museum is a double must-see for Bridgerton fans. The exterior of this exquisite mansion appears as Lady Danbury's house in the series – great to admire and the perfect backdrop for Instagram selfies. Inside the building is an art museum with some fine historic paintings as well as interesting exhibitions.
For a more bite-sized (and free) taste of artistic Bath, take a visit to the Victoria Art Gallery, alongside Pulteney Bridge and the Guildhall market. The Upper Gallery is free to visit (exhibitions cost extra), has a fine period atmosphere and is lined with historic paintings. It doesn't take long to visit, and you can look easily at as much or as little as you want, which in my opinion is the best way to enjoy art. The bulk of the artworks date from the eighteenth to the early twentieth centuries and quite a few of the paintings from the Georgian and Victorian collections are the perfect accompaniment to a Bridgerton tour. High society portraits transport you into the era, while the collection of historical scenes of Bath (it's worth opening the cabinet drawers for these) is a fascinating window into the city in its elegant heyday.
Other attractions which are perfect components of a Bridgerton weekend in Bath include No. 1 Royal Crescent. This Georgian house museum is the same building which was used (for the CGI-ed exterior) as the Featherington House in Bridgerton. Inside you can immerse yourself in historical atmosphere and décor. Bath's fine Fashion Museum is unfortunately closed and seeking funding as it moves to a new home, but once reopened (fingers crossed) this will once more be an unmissable destination for lovers of historical elegance and style.
Bath's Assembly Rooms, a filming location for Bridgerton and other period dramas, are also in a transitional stage before full re-opening in 2026, but may be open for visiting at times before then: National Trust plans for the Assembly Rooms.
The elegant covered stone bridge featured in several Bridgerton episodes is not in Bath – however, there are three Palladian bridges to this design in England and one is at Prior Park Landscape Gardens just outside the centre of Bath. So you can enjoy a Bridgerton-style al fresco stroll around a historic setting and get some convincing photos on and around the bridge and lakes. I'm pretty sure that the Bridgerton family, if they were in town, would produce their National Trust membership cards and while away a pleasant afternoon strolling elegantly here. If you're feeling energetic and don't mind a bit of mud, you could try my half-day walk which includes a visit to the gardens as well as scenic footpaths. Otherwise catch the number 2 bus to the garden's entrance. Check the opening dates and times of the garden in advance though, as these are limited in winter.
Bath sightseeing – beyond Bridgerton
Bridgerton producers chose well in picking some of Bath's finest street scenery to feature in the series (even if they did make it masquerade as London). However there is much more of Bath to discover, from high hillside crescents to gardens and footpaths. The Roman Baths and the Abbey alongside are the unmissable heart of Bath's story. The Roman Baths are expensive to visit but the museum, with its Roman and Georgian history and chance to taste the hot spring waters as eighteenth-century visitors did, is really a must-see. Pulteney Bridge and other Bath landmarks are included on my Bridgerton walk, which is a great introduction to the city.
Taking the waters
Bath is famously a spa town. The only place in Britain with natural hot spring water, the city has been a thermal spa resort for more than two thousand years. If Bridgerton had been officially set in Bath, you can bet that the characters would have joined real-life Georgians in bathing or sipping the mineral-rich steaming waters. You can add some pampering to your holiday with a well-being session in the modern spa facilities of Thermae Bath Spa, where attractions include a rooftop pool.
An elegant afternoon tea
What could be more Bridgerton than an elegant afternoon tea? Maybe with added fizz or cocktails to celebrate your stylish break. Bath has always provided ample refreshment opportunities for its residents and visitors, and afternoon teas have been a staple for a very long time. Now the Bridgerton US-influenced style aesthetic has spread in town. Not everyone loves this historically-anomalous plague of fake lilac and wisteria, but you could use it as a quick signpost to businesses aiming for Bridgerton custom. Some of my recommended tea rooms play up to this, others stick to tried-and-tested tradition, but either way you'll find a good range of options for a posh and formal afternoon tea with sandwiches, cakes and scones.
I've included a selection of afternoon tea destinations here, several of which I've tried myself. I'd recommend booking ahead if you want a special afternoon tea experience, though Bath does have plenty of informal cafés where you can enjoy drinks and food whenever you wish. I've included an approximate, indicative price in brackets – this is for the standard 'full afternoon tea' package without alcohol and applies at the time of writing; take it as an indication only, and check the latest menus before booking.
My favourite place for a posh afternoon tea is the Pump Room, part of the Roman Baths complex. Bath's traditional destination for high society, nowadays it makes a great venue for a fancy treat or special occasion. In this grand space, Georgian visitors and residents promenaded, tasted the hot spring waters and caught up with friends for daily gossip. Nowadays there is live classical music (from the Pump Room Trio or pianist), a refined atmosphere and delicious afternoon teas with dainty cakes and sandwiches. You can still sample the mineral spring waters at the ornate fountain overlooking the Roman baths. For an afternoon tea which really wallows in Bath's Georgian history, I don't think you can beat it. Morning brunch is also available. (£35)
The Francis Hotel offers an afternoon tea with the option to add on Bridgerton-themed cocktails for any bold Bridgerton aficionados who fancy a taste of a Simon Basset or a Colin Bridgerton. Available Thurs-Sun. (£31)
Jane Austen and Bridgerton fans might enjoy the Regency Tea Rooms within the Jane Austen Centre on Gay Street – this aims for a period atmosphere with tea and cake options inspired by Austen characters. (£22)
The atmosphere is pink and pretty rather than historic, but the two branches of Sweet Little Things are big on the floral Bridgerton vibe and offer a good selection of dainty cakes. They do a full afternoon tea as well as a bottomless brunch and a menu of brunch and lunch items. I've had a meet-up with friends here – it's a good place to catch up and indulge, and probably ideal for a civilised hen do. (£25)
Sally Lunn's is a Bath legend, famous for its buns and popular with visitors to the city. In historic surroundings they offer a sweet and savoury menu based around their 'bunns' as well as high tea and cream tea options.
A number of hotels lay on a special afternoon tea and one of the smartest of these must be the afternoon tea at the Royal Crescent Hotel – a very handy location if you are sightseeing (£40). Along Great Pulteney Street you'll find the No. 15 guesthouse, which offers a high-class afternoon tea experience with some more unusual ingredients (£32).
If you're happy with a more informal afternoon treat – maybe a traditional cream tea or cakes – there are many good options in Bath. These include the attractive little café on the first floor of Waterstones on Milsom Street, with handsome street views, and the Garden Café (Benugo) at the Holburne Museum, a Bridgerton location (which in recent years styled an outdoor marquee in homage to Bridgerton). The Abbey Deli in Abbey Green was featured in Bridgerton as the Modiste's shop, and has a small quaint interior used in filming as well as tables in the sunshine – you can also buy Bridgerton souvenirs here and see a few photos. On pre-booking they can organise a 'Modiste' afternoon tea (£25).
Bridgerton-style shopping – boutiques, modistes and chocolatiers
Bath is an excellent destination for shopping, and in fact can get very crowded at weekends and around Christmas with visitors travelling in from far afield, even from Wales. But most of the time, and for most of the city centre, it's a pleasure to stroll past shopfronts like Bridgerton's high society, window-shopping or sampling delicious products to take home. For an elegant Bridgerton break, ignore the modern chain-store shopping district near the railway station, and head northward, in the direction of the gentle slopes leading towards the Georgian hillside crescents. Broadly speaking, the further uphill you go, the classier the shopping environment.
Around Abbey Green (a true Bridgerton destination) you'll find quirky and interesting businesses aimed mostly, but not exclusively, at tourists. Bridgerton's Modiste is here, in reality the Abbey Deli where you can buy breakfast, a light lunch or afternoon tea. Members of the ton with a sweet tooth may enjoy a visit to a fine chocolate shop like Charlotte Brunswick for handcrafted chocolates to feast on at home. Close by, Mrs Potts Chocolate House offers the chance to sip a luxurious hot chocolate as well as organising chocolate-making workshops for private groups – a good activity if you're visiting for a hen-do or with a party of friends.
Heading up towards Milsom Street you'll find some of Bath's smarter and more interesting boutiques and clothes shops. The florist at Milsom Place, Anemone, not only supplies beautiful fresh and dried flowers but also a wide assortment of handsome artificial blooms worthy of the Bridgerton set itself – why not take some back to your home or lodging to build a suitably Netflix ambience? And beyond that, heading up towards Bath's Georgian heartlands, is Bartlett Street, with a handful of stylish boutiques, cafés and bistros, and the Bartlett Street Antiques Centre, where you could pick up mementos of Bridgerton vintage. Up by the Royal Crescent, where shopping opportunities run out, is Brock Street and Margaret's Buildings, where you'll find a couple of art galleries, antique silver, antiquarian books and a popular café.
One of my favourite places to shop is Bath's historic Guildhall Market, and I'm pretty sure the Bridgerton characters would have enjoyed browsing here. This covered market alongside Pulteney Bridge and the Guildhall has a marvellous time-worn and traditional atmosphere. Bridgerton ladies would undoubtedly enjoy picking out brightly coloured ribbons at the traditional haberdashery stall, with its stocks of wool and sewing accessories. Historic romances can be found alongside at the second-hand book stall which has been a staple for Bath bookworms for decades. Buy speciality cheese, cider and tea, visit the deli counter, sweet shop or traditional café, browse leather goods and pick up gifts.
Looking for Bridgerton-related shopping and souvenirs? On the day I wrote this I found tasty-sounding Lady Whistledown tea from Gillards of Bath in the Guildhall Market, and Modiste chocolate and tea, plus Bridgerton books and other Modiste-themed merchandise at the Abbey Deli.